Ever been whacked by a turtle?
Probably not, but it's something to consider, if you're either (1) an insurance company employee tasked with coming up with an individual medical code for every possible insurable — or insurance-company-sleazing-out-of-paying — medical problem; or (2) a physician whose office staff is heavily burdened with insurance claims for, you know, everything the physician treats. Like injuries derived from a sudden encounter with a turtle.
This hilarious piece is by Kevin Underhill (LoweringTheBar), who says he wrote it because "I am remarkably bored today [so] I decided I needed to inform the rest of you immediately."
Hint: Kevin is never bored. Kevin is always willing to make us fall on the floor laughing with True Law Stories. (Excuse me for a second while I get up from the floor. OK, I'm up and am pasting this in:)
But first, advice: read every single word of this because it is studded with laughter bombs throughout. You will thank me for giving you this advice. Go ahead. Thank me.
Struck by Turtle, Initial Encounter
Apr 23, 2021 04:49 pm | Kevin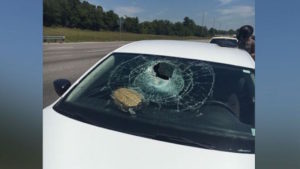 As several of you have informed me, a case of W59.22XA has been reported in Florida, and because (1) these are quite rare and (2) I am remarkably bored today I decided I needed to inform the rest of you immediately.
As some of you obviously recall, a while back we discussed the remarkable number of medical-insurance billing codes that were implemented in the 10th revision of the International Statistical Classification of Diseases and Related Health Problems (ICD-10), "remarkable" being somewhere north of 70,000, and maybe up to 140,000, depending on how you count and who you believe. The huge number of codes allowed for better (or at least more precise) classification of injuries, as well as some injuries that seemed likely to be so incredibly rare that we could probably do without a specific code for them. See "Injury Code W59.22XA: Struck by Turtle" (Sept. 13, 2011) (also noting codes devoted to classifying things like "unspecified spacecraft accident").
I found that sufficiently amusing (or was sufficiently bored) that more research followed. See "More on the Risk of Death by Turtle" (Sept. 14, 2011) (citing four previous reports of people being struck by flying turtles, three in 20th-century China and one even less verifiable report dated to 456 B.C.). And then yet more research, some by me and some by similarly amused (or bored) readers. "Further Reactions to the Turtle Code Controversy" (Sept. 23, 2011) (mentioning, e.g., X7402 ("Intentional self-harm by paintball gun"), V9603X ("Balloon collision"), and S3661X ("Primary blast injury of rectum")).
Then, in 2016, came a fairly credible report that someone had in fact been struck by a flying turtle in Florida, the explanation apparently being that the turtle was trying to cross the highway and was somehow knocked up into the air, crashing through another motorist's windshield. However, that proved to be sort of a false alarm, as it turned out the turtle did not actually make contact with the person in that car. See "A Case of 'Struck by Turtle' (Almost)" (May 17, 2016). So close, and yet not a W59.22XA. Would it ever happen?
Yes.
A turtle crashed through the windshield of a vehicle on Interstate 95 near Port Orange on Wednesday morning, hitting a woman in the head and sending her to the hospital, authorities said.
Happily, there were no serious injuries to either party. The woman (a passenger) did suffer a cut above one of her eyes, and needed treatment, but she did not lose consciousness. The turtle reportedly suffered only scratches to its shell and was released after questioning.
If you'd like to know what a 911 call following a turtle-involved assault sounds like, the News-Journal has you covered. Apparently because the car's occupants pulled over and got out to call 911, they initially didn't know what had come through the windshield. "Is it in her head?" the dispatcher asked, meaning the object. "Yes," the driver responded, thinking she meant the cut. The turtle was not, however, stuck in the woman's head, but rather was resting on the front seat, probably extremely dazed. Only at about the four-minute mark does a passerby who looked in the car and inform them that they had been struck by a turtle. "An actual turtle?" the driver asked. Yes, apparently, although as the News-Journal noted, "[t]he species … was not immediately known," so it could have been a terrapin or a tortoise or something.
I can't remember if there are separate codes for those, and not even I am bored enough to go look that up.
Those are all the details I have available. Please join me in wishing both victims a speedy recovery, and in congratulating whoever at the hospital was finally able to use this long-neglected ICD code.